Children's Worship 01.17.21
Dear Parents,
Thanks for joining us again as we do Children's Worship from home!  
Note: Please let us know about how your family is enjoying Children's Worship! Take some pictures of your family participating in Children's Worship or share a story. You can post to the Gold Avenue Church Facebook page or send by email at goldavechurch@gmail.com
Desert Temptation
Based on: Matthew 4:1-11
Activity One:  Read the intro. Watch the video.
Activity Two: Discuss the story using provided questions as prompts.
Worship: Singing 
Activity Three:  Respond to the story by doing the activity. 
Activity Four:  Bless your children 
EQUIP:  
(It's not an activity, but just a little background on the story for you, the parent, to read.) 
Have you ever felt that the best way to deal with temptation is to give in to it? That's the easy way out! But Jesus was tempted and never sinned. Instead, He relied on God's Word and obeyed in everything He did. I am not so good at resisting temptation. But I know that filling my mind with God's Word makes obeying God much easier to do. It's not because I'll have a better understanding of the rules. It is simply because God's Word allows me to fix my mind on Jesus, the author and perfector of my faith (see Hebrews 12:2).
Long ago, Helen Lemmel wrote a hymn that is still worth singing: "Turn your eyes upon Jesus; Look full in His wonderful face; And the things of earth will grow strangely dim; In the light of His glory and grace." When you feel tempted, stop and consider Jesus and His Word. He will make all the difference!
Debbie Barber
Senior Editor (this curriculum)
Activity 1:  STORY
Introduction to read to the children: 
After Jesus was baptized, He went away by Himself to the desert. You see, it was nearly time for Jesus to begin teaching about God and His kingdom—VERY important work! The desert was a quiet place where Jesus could talk with God, His Father, and get ready.
Watch the video:
Activity 2:  DISCUSSION
What is one of the ways Satan tempted Jesus?  (Asked Him to turn stones into bread. Told Him to jump off the Temple to show that God protected Him. Offered to give Him all the kingdoms in the world.)
What helped Jesus to not give in to temptation? (He spent time praying to God. He knew what God's Word says.)
What do you learn about Jesus from this story?
Sometimes we think that because Jesus is God's Son, it was easy for Him to always do right and honor God. But Jesus was tempted just as we are! Being tempted to sin and sinning are two very different things! Even though Satan tempted Jesus in many different ways, Jesus relied on God's Word every time. And Jesus wants us to follow His example!
Jesus obeyed God, His Father, and NEVER sinned. Because He never sinned, He was the only One who could take the punishment for our sins so that we could join God's family. He loved you and me that much! 
After discussing the Wonder Questions, you'll have the opportunity to pray with and for each of the children.
What will you do the next time you feel tempted to sin? (Read the Bible. Remember verses about obeying God.) God promises to help us when we pray. He will help us to show our love for Him by obeying His Word. Let's pray and ask God to help us obey Him by doing the things He wants us to do. 
Encourage children to respond with their own words. Then, transition into a time of prayer for personal requests.
Worship Songs:
Activity 3: RESPONSE
#1  
God's Word tells us many good things to do. But sometimes, we are tempted to do wrong things instead of what is right. When we are tempted, God promises to help us. God gave us the Bible as one great way to help us remember what is right.
Supplies
5×8-inch(12.5×20.5-cm) index cards
Give each student a large index card. Each student chooses one phrase from Verse Sheet to cut out and glue to the bottom of his or her index card. Student draws a picture of him or herself obeying the instruction on their card and adds his or her name to the card. Students decorate their cards as desired. Then students tape cards together to make an accordion-fold class book. Read through the book together, showing each student's picture.
#2      Print and Color: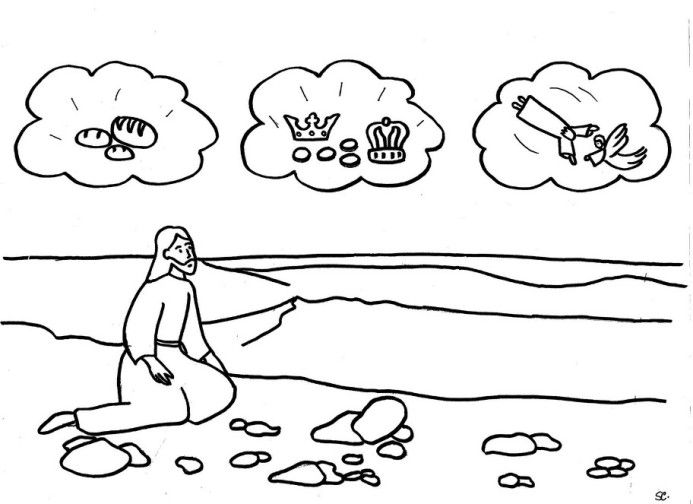 Activity 4: CLOSING BLESSING 
(Name) ____________________ May you know you can rely on God's Word to tell you the best way to live. And when you are tempted, may you rely on God's promise to help you do what is right and follow Jesus' example. He will help you because He loves you!
Try substituting the word "us" for the word "you" to include yourself in the blessing as well.
0
0
Gold Avenue Church
http://goldavenuechurch.org/wp-content/uploads/2020/07/GAC-Logo-V5-nbmod-300x300-1.png
Gold Avenue Church
2021-01-16 16:00:11
2021-01-16 16:00:11
Children's Worship 01.17.21