Hello church family, 
We are very excited to bring you an update about how the planning for the Coffee Shop Ministry is going.  We hope to write more updates in order to keep you up to date on the planning of the ministry as well as to inform you of needs of prayer. 
Before I (Jaci Kerkstra) share where we are right now and what is happening with this ministry, I would like to remind you of what this ministry is and God's vision for it.  Over the first year of planning from 2019 to 2020, we spent time with a vision team praying into the dream that God gave for this coffee shop. We spent lots of time listening to the Lord expressing his heart about the details of this ministry and how it is to impact the people in this neighborhood. Over that year he gave a clear direction for this ministry. The Coffee Shop Ministry will be an outreach ministry that will come through the means of a cafe in the basement of Gold Avenue Church.  It will be a ministry that enfolds other ministries that Gold already has as well as other forms of ministry such as: evangelism, discipleship, inner healing prayer ministry, teaching, prophetic ministry, worship and arts, and serving coffee and food.  This will be a ministry that is open to the public to come in during the day and enjoy their time having coffee with the volunteers who are ministering to the guests. People could also work on their own work or spend time alone in a quiet room to read, journal, or worship the Lord.  
We feel that God's vision and desire for this ministry is what he expresses in the Bible passage in Isaiah 61, where His people would live and walk out His kingdom through the empowerment of the Holy Spirit by sharing the good news to the poor, setting free those in bondage and captivity, binding up broken hearts and bringing healing to those who are in darkness. Therefore, the vision of this Coffee Shop Ministry is to create a safe and comfortable atmosphere where individuals can come and be fed both spiritually and physically, as well as receive inner healing submitted and led by the triune God, the Father, Son, and Holy Spirit. This is so that people would be able to walk in freedom which was made possible by Christ's death and resurrection on the cross.
Now we are working on taking steps of faith and obedience/action.  One huge step is looking at remodeling the basement at church to make it a space that works for the stated vision.  Just before Covid hit back in the beginning of 2020, we started looking into this. We have been working closely with a builder and an architect to help us see what is possible for us.  Mark Essenburg and I have been continuing to meet throughout the year of 2020 to ask the Lord how this ministry will function. We were able to discuss, plan and write up the ministry layout and how it will work including the structure for volunteers and how they can use their gifts in ministry. We also have acquired some great connections with people who have lots of experience with coffee and businesses/ministries and are looking forward to meeting with them in the near future.  We know this will give us some great information that we need. There is still much to plan and work through, which is why we really need continued prayer coverage from the body of Christ that will be a part of this ministry.
We are really looking forward to what God is going to do through this ministry.  We are trusting in his timing and we are keeping him as our focus.  We are sensing a strong need right now to bring in more prayer support as we strongly value prayer.  We know that it will help this ministry move forward.  We also have experienced spiritual warfare around the planning of this ministry and know that as more people pray that we would be protected against the plans of the enemy to thwart its growth.  Below are some areas we feel we currently need prayer for. Thank you all so very much for praying and supporting us as we continue planning this upcoming ministry of Gold Avenue Church.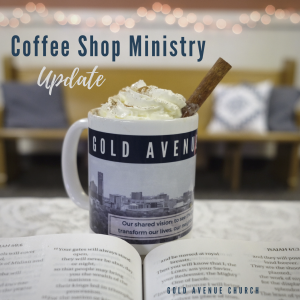 Prayer Points
Eventually we will need volunteers to come and serve in this ministry. So please pray that God would be going ahead of us and preparing them already for this.  He knows who they need to be. 

Wisdom and discernment for us as we continue following God's will and timing and that we would know and feel his direction clearly.

That God would continue to help us in working with the connections that he has brought us as well as give us other connections with people as we need. 
Thank you so much for praying and for your support and excitement for this upcoming ministry!
Jaci & Mark
https://goldavenuechurch.org/wp-content/uploads/2021/03/Coffee-Shop-Blog-Banner-1.png
1296
3375
Gold Avenue Church
http://goldavenuechurch.org/wp-content/uploads/2020/07/GAC-Logo-V5-nbmod-300x300-1.png
Gold Avenue Church
2021-04-07 09:00:15
2021-04-16 16:23:17
Coffee Shop Ministry Update 04.07.21