Regathering Update 05.12.21 (Family Gathering Details)

Read our full guidelines here: Covid-19 Regathering Guidelines We'll keep this document updated to reflect the latest guidance.
We are excited to see you at our Family Gathering THIS Sunday, May 16, 2021, from 3-5PM, at Gold Avenue Church. We anticipate that it will be a joyful time of reconnecting and hearing more about what to expect when we regather for Sunday morning worship on June 6, 2021. Here is what we will do when we meet on Sunday: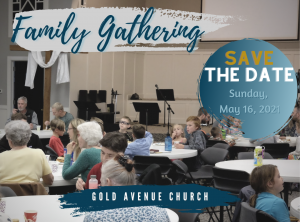 We will meet outside at 3:00pm on what looks to be a beautiful spring day, to enjoy fellowship and reconnecting. The south-east parking lot will be roped off to create a space for this, other areas that can be used are the patio on the east side of the building or the park across the street. Red lanyards will be available for people who would like to fellowship outside, but are very cautious. They are a visual reminder that the person wearing one would like to have people around them wear a mask and keep 6 feet of distance.
We will then move inside through the main doors on California St. We will be checked in before finding seats as a way to test our check-in system. Every other row of seating will have been removed in order to help with physical distancing. The floor space in the alcove on the south side of the sanctuary will be reserved for families with small children. Families may bring a picnic blanket and/or beach chairs so they can sit with their children.
Throughout our time inside we will hear from the Regathering Team about what our guidelines for regathering will be, and what we can expect when we regather for Sunday Worship. We will hear about the new interim positions that have been created to aid in our regathering, for which we are all very excited about. We'll share more about what our testimony time will look like as we regather, and we'll end with joyful worship. We are very excited to meet to talk about these things and that our regathering will begin in just a few short weeks on June 6!
Lastly, please keep in mind that there is still a pandemic going on, so things will continue to look different for a while. Below are the guidelines that the Regathering Team has prayerfully and carefully discerned regarding how our Gold Ave Church family can safely resume in-person services in the midst of the ongoing COVID-19 pandemic. Our goal is to create as safe of an environment as possible and reasonable. We respectfully ask for much grace and ask that we all make every effort to follow the guidelines set forth by Paul in Ephesians 4:2-3   "Be completely humble and gentle; be patient, bearing with one another in love. Make every effort to keep the unity of the Spirit through the bond of peace." First is a short infographic that summarizes our guidelines, and after that is the full document which explains each point in more detail. You are invited to view this ahead of the family gathering if you desire to.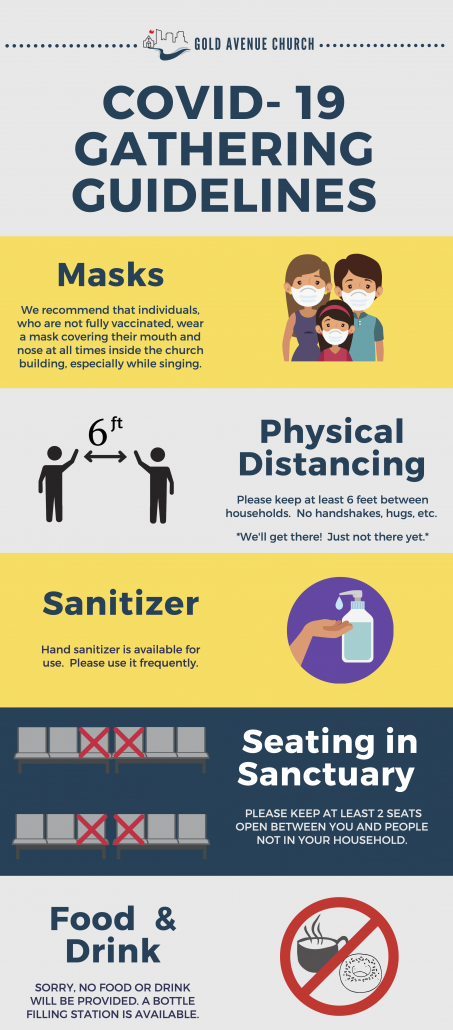 Read our full guidelines ahead of the gathering here: Covid-19 Regathering Guidelines – Please note that since publishing these guidelines on Wednesday, there has been new guidance from the CDC and the State of Michigan, lifting mask wearing requirements for those who have been fully vaccinated in most circumstances (still subject to local guidance). As the Regathering Team is constantly monitoring these and prayerfully discerning how to apply them to our situation, this has led to a change in our guidelines. Since we will not be monitoring who has been vaccinated or not; our mask wearing requirement has changed to a recommendation to wear masks for all those who have not been vaccinated. We realize that some who have been vaccinated may choose to continue to wear a mask, while others may have health or other legitimate reasons for not wearing a mask, or not being vaccinated. In an effort to maintain unity and avoid any needless division, we ask to please not make assumptions about whether someone is or is not vaccinated by whether or not they are wearing a mask or not. Another addition is that there will be a limited number of N95 or KN95 masks available for those desiring a higher degree of personal protection.
Note that there will not be an open discussion time during the gathering. Please send questions to the regathering team at gold.regathering@gmail.com
We look forward to seeing you all on Sunday!
https://goldavenuechurch.org/wp-content/uploads/2021/03/Regathering-Blog-Banner-1-1.png
648
1687
Gold Avenue Church
http://goldavenuechurch.org/wp-content/uploads/2020/07/GAC-Logo-V5-nbmod-300x300-1.png
Gold Avenue Church
2021-05-11 10:13:39
2021-05-19 09:18:35
Regathering Update 05.12.21 (Family Gathering Details)