Gold Avenue Church At Home Worship Liturgy 11.1.2020
A Note before you begin:
Welcome to Gold Avenue Church's At home Worship Liturgy; we're so grateful to join together in Spirit as we worship! We want to give special thanks to our worship leaders: Kayleen Jasperse, Derek Sterenberg, and Marissa Walters who have been prayerfully discerning our Orders of Worship and Marissa in particular who prayerfully discerned this liturgy.
Our prayer is that this liturgy helps us to create cultures of worship in our homes or wherever we utilize them, and that as we enter into his presence and give him praise, that we are each met, blessed, and challenged, and encouraged to grow as disciples of Jesus Christ.
We will also be celebrating Communion together as part of this liturgy! Please make sure that you've got your elements ready so that you can join in!
Call to Worship: 
The Call to Worship serves to focus our attention on the living God who is present with us; it calls us to position ourselves as those who are ready to worship and ready to receive from Him.
Read the following out loud as you fix your eyes on Jesus:
From Psalm 46:
God is our refuge and strength,
an ever-present help in trouble.
Therefore we will not fear, though the earth give way
and the mountains fall into the heart of the sea,
though its waters roar and foam
and the mountains quake with their surging.
There is a river whose streams make glad the city of God,
the holy place where the Most High dwells.
God is within her, she will not fall;
God will help her at break of day.
Nations are in uproar, kingdoms fall;
he lifts his voice, the earth melts.
The Lord Almighty is with us;
the God of Jacob is our fortress.
Come and see what the Lord has done,
the desolations he has brought on the earth.
He makes wars cease
to the ends of the earth.
He breaks the bow and shatters the spear;
he burns the shields with fire.
He says, "Be still, and know that I am God;
I will be exalted among the nations,
I will be exalted in the earth."
The Lord Almighty is with us;
the God of Jacob is our fortress.
Let us worship the Lord Almighty!
Pray for the Lord to fill you, your household, and your home with his presence and his peace. Invite him to stir up worship and take time to express your gratitude and thankfulness to the Lord as you feel led.
Worshiping in Song:
You can access the video of each song by clicking on the video. We invite you to turn up the volume and to participate freely and fully: sing along, dance, kneel, listen and soak, read the included lyrics–however you feel led. You may find it fruitful to listen to a song more than once, to respond between songs with prayer, thanksgiving, meditation, or even discussion about how the Lord is at work in and through the song. 
Lord Most High
The Lord's Greeting:
The Lord's Greeting serves to remind us that we are in the presence of the living God. It makes space for him to greet us as our loving heavenly father who rules and reigns as the King over all and who is present with us as our loving heavenly father!
Fix your eyes on him as you read the following out loud:
From 2 John 1:3
Grace, mercy and peace from God the Father and from Jesus Christ, the Father's Son, will be with us in truth and love!
Greeting One Another:
It might feel a little odd doing this at home, but take time to say these words to greet each other, as you shake hands, hug or elbow bump: 
"The Lord be with you!"
and in response: 
"and also with you!"
And if you're alone:
"The Lord is with me!"
Our Father
High and Lifted Up
Communion
If you are a baptized member of a church that declares Jesus is Lord, and if you are walking in the light and in pursuit of righteousness, we welcome and encourage you to join with us as we celebrate the Lord's Supper! If you are not yet baptized or are not yet walking in the light, we encourage you to take some time to pray and reflect with the Lord or to confess and repent of your sins as His Word promises that when we confess, he is faithful to forgive! We welcome baptized children of believers to the table as parents discern they are ready, and also invite you to pray blessing over your children who are not yet ready to partake. 
Behold the Lamb
Testimony/Family Prayer Time:
As you transition, take a moment to reflect on how the Lord was ministering to you through song: what lyrics stood out to you? What emotions were you experiencing? What did God reveal to you about who he is? What did God reveal to you about what he says about you? How else were you ministered to? 
Share a story with those around you or to the Lord about how he was at work in worship as well as in your week. Give him glory for his goodness. If alone, you could write down your testimony.  
Take a few minutes to pray for our church family, neighborhood, and the world as the Lord leads.
Regular offering: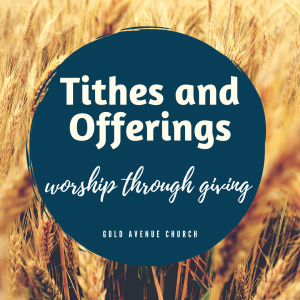 Support ministry at Gold Avenue Church by giving to the general fund (Click the picture for more giving options):
Text:

 send

amount

(number only, no extra symbols) to (616) 319-2259 and follow prompts to give securely

Give online

at

https://goldavenuechurch.breezechms.com/give/online

or give through PayPal here.

Mail a

check

payable to Gold Avenue Church at 49 Gold Avenue NW Grand Rapids, MI 4950
Song of Preparation
 The Song of Preparation serves to prepare our hearts to receive the Word of the Lord.  Continue to fix your eyes on Jesus and surrender your attention and heart to him as we transition and prepare to enter into His Word. 
Speak O Lord
The Preaching of the Word:
Access the audio of the sermon here: Sermon Audio Recording

Song of Response:
The song of response helps us to receive and apply the words that we've just heard through the Word. Take a moment to reflect on what you've just heard and experienced and ask the Lord how he might be asking you to respond; feel free to sing in response as you feel led. 
Even So Come
The Lord's Blessing:
The Lord's Blessing serves to make space for us to receive the Lord's blessing to equip and empower us to receive his word, to be obedient to it, and to walk it out in his grace and favor.
Fix your eyes on him as you read the following out loud:
From Ephesians 3:16-21
I pray that out of his glorious riches he may strengthen you with power through his Spirit in your inner being,
so that Christ may dwell in your hearts through faith. And I pray that you, being rooted and established in love,
may have power, together with all the Lord's holy people, to grasp how wide and long and high and deep is the love of Christ,
and to know this love that surpasses knowledge—that you may be filled to the measure of all the fullness of God.
Now to him who is able to do immeasurably more than all we ask or imagine, according to his power that is at work within us,
to him be glory in the church and in Christ Jesus throughout all generations, for ever and ever! Amen.
Closing Song
: 
How Long, O Lord
---
0
0
Gold Avenue Church
http://goldavenuechurch.org/wp-content/uploads/2020/07/GAC-Logo-V5-nbmod-300x300-1.png
Gold Avenue Church
2020-10-31 16:50:20
2020-10-31 16:50:20
Gold Avenue Church At Home Worship Liturgy 11.1.2020