Children's Worship 5.3.20
Dear Parents,
Thanks for joining us again as we do Children's Worship from home!  Today we'll learn about how Jesus cared for his disciples in a storm and that he cares for us the same way. We, too, and our children are called to be his helpers and live as Jesus taught, to share the gospel and to be part of his great plan. Let's learn together.
OVERVIEW:
Activity One: Watch the video
Activity Two: Discuss the story using provided questions as prompts
Worship
Activity Three:  Respond to the story by doing an art or serve project. Pray together.
Activity Four:  Bless your children 
EQUIP:
(It's not an activity, but just a little background on the story for you, the parent, to read.)
Who is He? Scripture tells us He was seen as a rabbi, a man well trained in Jewish law, ritual, and tradition. He entered the synagogue with great authority. His teachings and healing challenged the Pharisees' understanding of both the law and God Himself. But "Rabbi" could not encompass all that He is (see Mark 1:22 and 2:23—3:6).
Authority, power, and mastery—Jesus is rightfully referred to as Lord. It seems so clear in hindsight, but it wasn't until a stormy night that the disciples began to see an even better picture of who He is. Panic and complete fear struck as storm waves broke over the sides of their boat. Convinced that death was imminent, the disciples woke Jesus. "Teacher, don't you care if we drown?" (Mark 4:38). Accusation filled their tone. Their lack of understanding of His identity was exposed. In that moment, they merely saw Him as a man susceptible to death.
A perfect storm. There was such beautiful harmony between the rage of the storm and the power in His rebuke. Jesus pushed back and quieted the storm with His words: "Quiet! Be still!" He commanded nature with authority as if creation knew His voice. And the waters obeyed.
Being eyewitnesses to incredible wonders in the form of miracles, healing, and spiritual cleansing, who did the disciples say He was? We don't know if in this moment they completely understood that Jesus was revealing Himself as God. However, He did leave them asking a question that was sure to be answered: "Who is this? Even the wind and the waves obey Him!" (Mark 4:41). Jesus used the elements to help us understand His deity. Jesus is God.
Activity 1: STORY
Watch the video below.
Activity 2: DISCUSSION
Today in The Big God Story, we heard about a terrible storm the disciples were caught in with their boat. They became afraid and asked Jesus why He wasn't afraid too. Jesus calmed the storm and waves by using His voice, because He is God.
I wonder … How would it feel to be on a boat in the middle of a storm?
I wonder … What would I have thought if I had watched Jesus speak to the storm?
I wonder … What other amazing things can Jesus do?
These questions can easily extend into the rest of the week. Look for opportunities to bring conversations about how God Saves into your everyday life as a family.
Worship Songs:
"He's Got the Whole World In His Hands" (not the super traditional one, but we were looking for one with "the wind and the rains" lyric- feel free to just sing it, but include that verse!)
He's Got the Whole World in His Hands
I Will Make You Fishers of Men
Activity 3: RESPONSE ACTIVITY 
"God Can" Creations
Supplies
Blue Cardstock/Construction Paper 

White cardstock/piece of cardboard

Crayons or Markers

Scissors

Tape

Yarn 

Optional: cotton balls, blue glitter, glue
As they respond to today's part of The Big God Story and the truth that Jesus is God, children will create a mobile with wave and raindrop shapes.
Prepare Ahead
Cut the white cardstock/cardboard into a cloud shape. You might also add cotton balls to your cloud shape. Tape yarn lengths along the bottom. Cut out rain drop shapes (but don't tape down yet).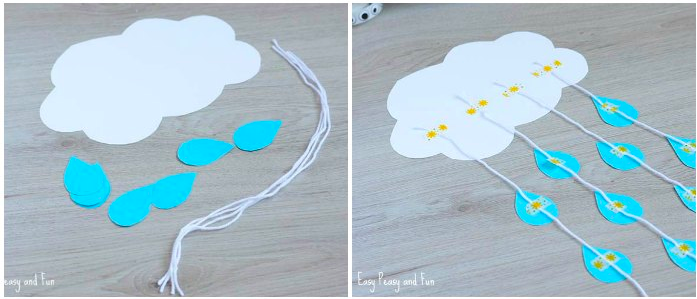 Relate
I have a shape here that may remind you of today's part of The Big God Story and that Jesus is God. The raindrops remind us about God's power over all the earth, including the storm we heard about. What would you like to praise Him for? They also remind us about how Jesus cared for His disciples on the boat. He helped them trust Him and showed them they didn't need to be afraid. What would you like to ask Jesus to help you with?
Give children time to color their raindrops as they respond to God. You may want to ask the questions again. They can also add glitter to their shapes with the glue if you made these supplies available. Next, attach their raindrops to the mobile by stringing yarn through the top and bottom of their shape or taping. Hang the mobile in a window to remind your family all week!
Friends, Jesus is God. Jesus showed His disciples that He is powerful and that they can follow Him by trusting and obeying Him. All week, you can ask Jesus to show you how to trust and obey Him more and more too.
Activity 4: CLOSING BLESSING 
A blessing to pray over your child(ren):
Share the following words from Psalm 107:29 He stilled the storm to a whisper; the waves of the sea were hushed.
Now invite children to bless one another. Children can bless the person sitting next to them or get into pairs. Here are some blessing words they can speak to each other:
(Child's name), may you praise Jesus because He is God.
Finish this time together with a blessing over your whole group:
May you follow Jesus all the days of your lives and know that He is God. He will lead and guide you.
We Need Pictures! Please let us know about how your family is enjoying Children's Worship! Take some pictures of your family participating in Children's Worship or share a story. You could be part of the next Featured Image on the blog!  You can post to the Gold Avenue Church Facebook page or send by email at goldavechurch@gmail.com
0
0
Gold Avenue Church
http://goldavenuechurch.org/wp-content/uploads/2020/07/GAC-Logo-V5-nbmod-300x300-1.png
Gold Avenue Church
2020-05-02 16:45:53
2020-05-02 16:45:53
Children's Worship 5.3.20