Gold Avenue Church At Home Worship Liturgy 07.18.21

A Note Before you Begin:  
Please note that while this liturgy is available now, this week's sermon audio will not be uploaded or available until after the sermon is preached and uploaded on Sunday morning. 
This service was prayerfully planned and coordinated by Derek, Worship Coordinator, Kayleen Jasperse, and the pastors.
Our prayer is that this liturgy helps us to create cultures of worship in our homes or wherever we utilize them. May the Lord bless you as you enter into his presence and give him praise. May we each be met, blessed,  challenged, and encouraged to grow as disciples and disciple makers of Jesus Christ.
Call to Worship: 
The Call to Worship serves to focus our attention on the living God who is present with us; it calls us to position ourselves as those who are ready to worship and ready to receive from our Lord.
Read the following out loud as you fix your eyes on Jesus:
From Zephaniah 3:17
"The

LORD

 your God is with you,
the Mighty Warrior who saves.
He will take great delight in you;
in His love He will no longer rebuke you,
but will rejoice over you with singing."
Worshiping in Song:
Hosanna (Praise is Rising)
The Lord's Greeting:
The Lord's Greeting serves to remind us that we are in the presence of the living God. It makes space for him to greet us as our loving heavenly father who rules and reigns as the King over all and who is present with us as our loving heavenly father!
Fix your eyes on him as you read these words from  2 John 1:3 aloud:
Grace, mercy and peace from God the Father and from Jesus Christ, the Father's Son, will be with us in truth and love.
Greeting One Another:
It might feel a little odd doing this at home, but take time to say these words to greet each other, as you shake hands, hug or elbow bump.
Consider sending a greeting text message to a church family member.
"The Lord be with you"
and in response: 
"And also with you"
And if you're alone:
"The Lord is with me"
Ever Be
One Thing Remains
Goodness of God
Testimony/Family Prayer Time:
Take a few minutes to pray for our church family, neighborhood, and the world as the Lord leads.
Consider asking a church family member how you can be in prayer for them, or invite a church family member to pray for you.
Regular Offering: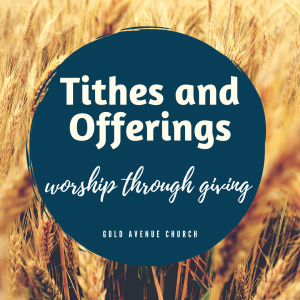 Support ministry at Gold Avenue Church by giving to the general fund (Click the picture for more giving options):
Text:

 send

amount

(number only, no extra symbols) to (616) 319-2259 and follow prompts to give securely

Give online

at

https://goldavenuechurch.breezechms.com/give/online

or give through PayPal here.

Mail a

check

payable to Gold Avenue Church at 49 Gold Avenue NW Grand Rapids, MI 4950
Special Offering for July: The Other Way Ministries
The Other Way Ministries reaches out to West town neighbors through a collection of programs, classes, and services. Each one is tailored to fit a specific need for today with an eye toward building sustainable community growth for tomorrow. When families desire a deeper change, The Other Way Ministries is ready with Family Development. Families find spiritual direction, relationship growth, and economic stability in personal and practical ways.
Checks can be mailed to:
The Other Way Ministries 839 Sibley St. NW Grand Rapids, MI 49504
Below are the specific prayer points for The Other Way Ministries:
Youth – after a year of serving as an in-person school for Sibley Elementary students learning virtually, it was on our hearts to scale-up our summer program – knowing that our kids and families are thirsting for a "normal summer". We are enrolling 40 students for a 4-day per week, 6-hour per day, 9-week program.  The focus will be self-paced academic tutoring, spiritual reflection/development, and of course lots of memory-making, social, and recreational fun.  We've increased our staffing considerably for this and are excited, but of course financial support of this is important, and more importantly, prayers as we enter into this new season and format of youth programs.
Resource Center / Pantry – We are coming off a year when food assistance requests have been sustained at 4-5 times what they were pre-pandemic.  We are far beyond the time when donated food items meet the needs of our neighbors, so we have been purchasing food to make sure our inventory can provide healthy food options that include choices that match preferences to all who come to our doors.  A prayer request – as we "re-convert" our space to welcome neighbors in-person this summer, we seek wisdom in how we move forward to best
Homeless Neighbors – we are seeing more and more folks living in cars around our area.  We are praying and encouraging others to join us to pray for them specifically, but also for The Other Way as we think and reflect on how we can best minister to this community in the short-term, and what role we can play in advocating for change.
Childcare – our tuition-free childcare center is always at capacity, and they are coming off a difficult year (including a COVID outbreak). This service is needed now more than ever, and we are praying for the right individual to lead this center as our current leader transitions out, and for our staff generally for strength to continue to care for and serve the children and families well after a challenging year.
Counseling – we recently launched a partnership counseling program provided at little/no-cost for neighbors.  We pray for the counselors and for our neighbors that bonds might form, and stigma associated with counseling might be overcome.
The Preaching of the Word:
Our current sermon series is written in connection to and alongside a helpful tool that we have developed called the Gospel Tool. Disciple Groups at Gold Avenue Church are working through lessons that are based upon the Gospel Tool, and we want to make this resource available to every listener. Click here to check out the Gospel Tool, the Visual Gospel overview, statements, & scriptures.
Access the audio of the sermon here: Sermon Audio Recording

Song of Response:
The song of response gives opportunity to consider, apply, and respond to what we've just heard from the Word. If you need to and are able, take a few minutes to process what you've just heard and experienced and how the Lord may be inviting you to respond. Sing in response as you feel led.
Worthy of It All
The Lord's Blessing:
The Lord's Blessing serves to make space for us the Lord to bless us to continue to walk in faithful obedience and to grow up into maturity.
Fix your eyes on him as you read the following out loud:
From Numbers 6:24-26:
The Lord bless you
and keep you;
the Lord make his face shine on you
and be gracious to you;
the Lord turn his face toward you
and give you peace
https://goldavenuechurch.org/wp-content/uploads/2021/03/Visual-Gospel-Gospel-Tool-AHL-Blog-Banner.png
1296
3375
Gold Avenue Church
http://goldavenuechurch.org/wp-content/uploads/2020/07/GAC-Logo-V5-nbmod-300x300-1.png
Gold Avenue Church
2021-07-17 14:10:39
2021-07-17 15:12:53
Gold Avenue Church At Home Worship Liturgy 07.18.21