Children's Worship 4.26.20
Dear Parents,
Thanks for joining us again as we do Children's Worship from home!  Today we are reminded of how Jesus called his first helpers and taught them how to live and share the good news. We, too, and our children are called to be his helpers and live as Jesus taught, to share the gospel and to be part of his great plan. Let's learn together.
OVERVIEW:
Activity One: Watch the video
Activity Two: Discuss the story using provided questions as prompts
Worship
Activity Three:  Respond to the story by doing an art or serve project. Pray together.
Activity Four:  Bless your children 
EQUIP:
(It's not an activity, but just a little background on the story for you, the parent, to read.)
What exactly did it look like to be called by Jesus? Most people knew Jesus as a rabbi or teacher, as Jesus probably dressed like a rabbi. Every young Jewish man began a religious education and hoped to be chosen by a prominent rabbi for further training. Rabbis would choose their followers (disciples) very carefully, and potential followers would go through years of training in an attempt to prove themselves. But Jesus had a plan. He wasn't looking for the most educated men with social status. He was looking for men with whom He could have a relationship. These men were teachable, hard workers from humble backgrounds.
Second, Jesus sought them out rather than the reverse, as was appropriate for the system. None of the future disciples came to Jesus to ask to follow Him. He pursued them in the places they worked and lived. With these first disciples, they were convinced of His power with the catch of their lives. Jesus—the Son of God—took the time to seek out these men and get their attention.
Finally, Jesus had His Father's bigger picture in view. As He picked these men, He was already setting up His plan. He chose 12 disciples. (A disciple is someone who follows and learns.) Jesus spent three years in life-on-life relationship with each of these men. Not only did He train them, He also exposed them to wonders beyond what they could imagine. He prepared them to be catalysts for the greatest movement ever seen on earth. Jesus' relationship with the 12 disciples set an example for the type of relationship He wants with each of us: He wants to be part of our lives, He will seek us out, He wants us to know Him, and He wants to use each of us in His great plan.
Read over Luke 5:1–11. Think about your own life. Think about the first time you heard God calling you to be part of His plan.
Read the passage again. Do you see any parallels between this situation and your life? When did His calling on your life begin? In what ways did He pursue you? How has that changed everything for you?
Spend some time this week praying and asking God to reveal the narrative of your calling. Thank Him for all the ways He has revealed Himself in your life. Thank Him for inviting you to be part of His amazing plan.
Activity 1: STORY
Activity 2: DISCUSSION
In The Big God Story today, we heard how Jesus chose 12 disciples as part of God's big plan for the world. God wants you and me to tell everyone about Him and how much He loves us. We get to be part of God's big plan!
I wonder … What did Peter think when tons of fish swam into his net?
I wonder … What might the fishermen have thought when Jesus invited them to go with him?
I wonder … What would it be like to leave my home and travel with Jesus?
I wonder … Who can I share God's love with?
These questions can easily extend into the rest of the week. Look for opportunities to bring conversations about how God Saves into your everyday life as a family.
Today's Worship Songs:
"I Will Make You Fishers of Men"
"Peter, James, and John in a Sailboat"
"Tell the World That Jesus Loves You"
Activity 3: RESPONSE ACTIVITY
(There are four of them, choose one or as many as you would like.)
#1 Kids, today we heard how Jesus called fishermen to follow Him. God invited these men to be a part of His plan and to share His love and plan with others. Like these fishermen, God invites us to follow Him so we can be His disciples too! As His disciples, we can show others the love of Jesus and tell them about God's plan. He wants to have a relationship with every single person in the world. Let's spend time responding to God and His amazing love for us by praying for someone who might not know how much God loves her, or that He invites her to follow Him. But first, let's make our bodies still and quiet and close our eyes. Who is someone you can share God's love with?"
Give children a few moments to think and pray quietly. Then pass out the paper person and crayons. Help children write on their Person template the name of someone they want to share God's plan with, then encourage them to color their cutout. As children are working, talk with them about ways they can share about God's love and plan with others. Why do you think God calls His disciples to share His plan with others? What are some ways we can tell others about Jesus and share His love? Once children have finished coloring their person, invite them to place their cutout in a prominent place to view as a reminder to share God's love with that person. Close this time by praying for the people who are represented.
Person template: Download Here
#2 Some of the first disciples Jesus called were fishermen. In this activity, children will get to be fishermen too!
Card stock or index cards  (various colors or if white –  color them)

Scissors

Masking tape

Wooden dowels or go out in the yard and find a sturdy stick

String (1′ )

Paperclips (1 per fish plus 1 for every pole; large)

Fish Template: Download Here
Print the Fish template onto colored card stock, and cut out the fish. For every dowel, bend a paperclip so there's a hook on one end, and attach the non-hooked end of the paper clip to the dowel with the string. Bend the rest of the paper clips into large U shapes, and then carefully tape the paper clips to the mouth of the fish using the masking tape so the two ends of the U are attached to the fish's mouth. The goal is to create a large "hook" on the string and a large "mouth" on the fish to hook the fish. (To make it easier for children to catch the fish, consider bending the U upward so it's perpendicular to the fish.)
Using the masking tape, make a circle on the ground approximately two feet in diameter. Place the fish in the masking tape circle. You can have children keep the fish they catch or place them back into the pond. As children get better at catching the fish, add to the challenge by encouraging them to catch a fish of a certain color. 
#3  Print this picture and cut apart to make an easy puzzle. Let your child(ren) put back together as you talk about the story.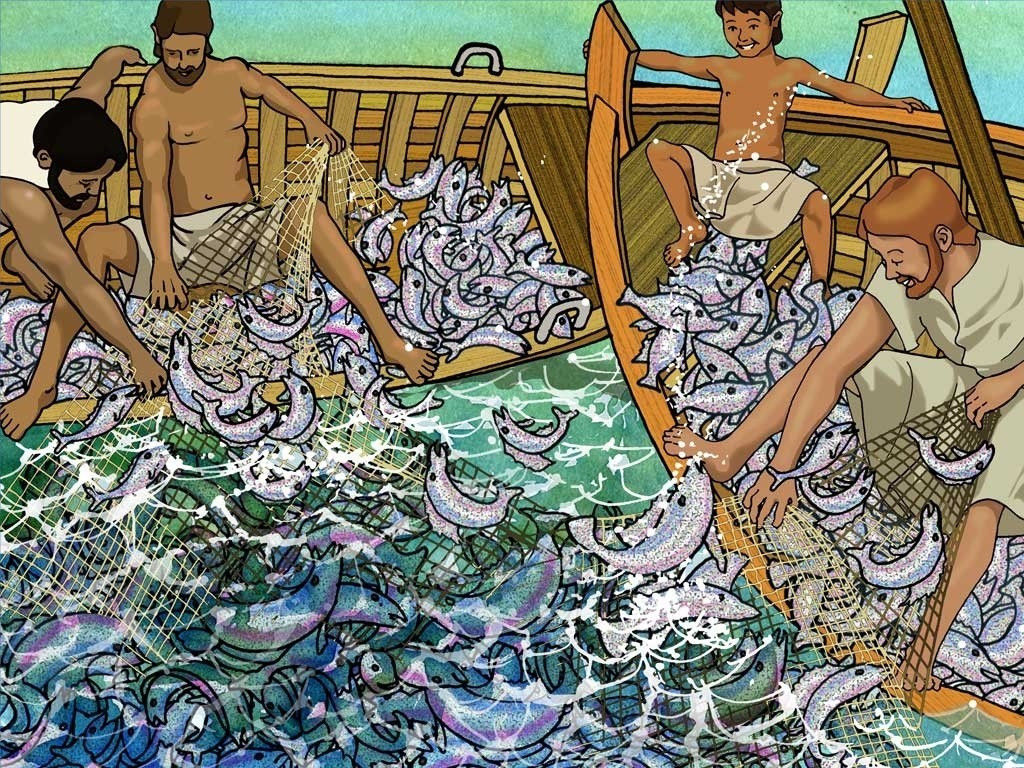 #4 The fish symbol became a secret symbol used by early Christians. When much persecution was taking place Christians used the fish symbol to determine who was their friend and who was their enemy. According to one ancient story, when a Chrstian met a stranger on the road, the Christian sometimes drew one arc of the simple fish outline in the dirt, if the stranger drew the other arc, both believers knew they were in good company. (Taken from "Christianity Today.") 
You can try this with the older children. Draw a fish arc on a paper or outside in the dirt and have them complete the fish. Then you will know you both love Jesus!

Activity 4: CLOSING BLESSING 
A blessing to pray over your child(ren):
Read the following words from Ephesian: Follow God's example, therefore, as dearly loved children and walk in the way of love, just as Christ loved us and gave himself up for us. (Ephesians 5:1–2a).
Bless each child by saying:
(Child's name), may you follow God's example. May you hear when God calls you to follow Him this week. May you be an example for others as you love God and love others.
Pray with your kids, asking them if they have any prayer requests and encouraging them to pray for others.  Have a blessed week!
Note: Please let us know about how your family is enjoying Children's Worship! Take some pictures of your family participating in Children's Worship or share a story. You can post to the Gold Avenue Church Facebook page or send by email at goldavechurch@gmail.com
0
0
Gold Avenue Church
http://goldavenuechurch.org/wp-content/uploads/2020/07/GAC-Logo-V5-nbmod-300x300-1.png
Gold Avenue Church
2020-04-25 16:45:02
2020-04-25 16:45:02
Children's Worship 4.26.20