Children's Worship 01.03.21
Dear Parents,
Thanks for joining us again as we do Children's Worship from home!  
Note: Please let us know about how your family is enjoying Children's Worship! Take some pictures of your family participating in Children's Worship or share a story. You can post to the Gold Avenue Church Facebook page or send by email at goldavechurch@gmail.com
In My Father's House
Based on: Luke 2:41-52
Activity One:  Read the intro. Watch the video.
Activity Two: Discuss the story using provided questions as prompts.
Worship: Singing 
Activity Three:  Respond to the story by doing the activity. 
Activity Four:  Bless your children 
EQUIP:  
(It's not an activity, but just a little background on the story for you, the parent, to read.) 
The story of Jesus at the Temple reminds us that Jesus was MAN as well as GOD. He was born and grew up, experiencing growth, feelings and temptations just like we do. He knows what it is like to be one of us. He is our perfect example to follow. But because He is also God, perfect and holy in every respect, He is the only One who can bridge the gap that sin creates between us and our Father in heaven. 
Activity 1:  STORY
Introduction to read to the children: 
What are some good things about being a kid?

What might be fun about being a grown-up?

Today we're going to talk about what God wants us to do as we grow up.
As a child, Jesus lived in Nazareth. He probably grew up like the other kids in that little village. What do you think kids did in the village?
Families had gardens and animals, and kids probably had chores, helping their parents take care of the garden and animals. Jesus probably helped Joseph, who was a carpenter. And most boys learned Hebrew and Old Testament history at a school.
When Jesus was 12 years old, he went with his family to the Temple to celebrate the Passover holiday, as usual. This was a very special celebration when the Jewish people remembered how God had helped them escape slavery in Egypt.
I wonder what Jesus did while the family was in Jerusalem. It was a surprise to Mary and Joseph!
Watch the video:
Activity 2:  DISCUSSION
Jesus' Father in heaven knew RIGHT where Jesus was! God was His Father, even though Joseph was raising Him. And Jesus knew His Father in heaven had work for Him to do! But Jesus didn't have a proud attitude. Instead, He gladly went back home with Mary and Joseph. Listen as I read Luke 2:52 to find out what the Bible says about how Jesus grew. (52 And Jesus grew in wisdom and stature, and in favor with God and man.) As Jesus grew to be an adult, He grew physically strong and He grew in wisdom and knowledge. People liked Jesus, but even more importantly, God was very pleased with Him!
Wonder Questions:
Why did Jesus and His family go to Jerusalem? (To celebrate Passover.)
What did Joseph and Mary learn about Jesus?
How would you describe Jesus as He grew? What did you learn about




Jesus from this story?
After discussing the Wonder Questions, you'll have the opportunity to pray with and for each of the children. 
Even as a child, Jesus lived in ways that showed His faith in God. That's what we can do, too! No matter how old or young we are, the way we live can show our faith in God and show that we are His followers. What are some ways we can show our faith in God? Let's pray and ask God to help us with those ways.
Encourage children to respond with their own words. Then, transition into a time of prayer for personal requests.
Worship Song:
Activity 3: RESPONSE ACTIVITY #1
Even as a child, Jesus lived in ways that showed His faith in God. That's what we can do, too! No matter how old or young we are, the way we live can show our faith in God and show that we are His followers. That's what this Bible verse talks about. Read aloud 1 Timothy 4:12 (12 Don't let anyone look down on you because you are young, but set an example for the believers in speech, in conduct, in love, in faith and in purity.) The words we say, the things we do to show love to others and the way we try to do what's right are all ways we show faith in God. And just like Jesus, we don't do these things because we have to or someone is forcing us. We do them because we love God and want to be His followers.
Babies have a lot of fun playing, but growing up and being a kid is good! The same thing is true about growing in faith. We start out not knowing very much about how to please God, but as we grow in faith, we learn more and more about pleasing God and loving Him.
Let's decorate a page and fill in the empty tabs by writing what we can do to please God and be an example this week (look for someone to share with, invite a friend to church, look for a way to encourage a kid in class, read the Bible, pray for a friend, etc.). Cut the tabs so that they are easy to tear off during the week.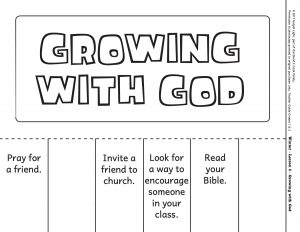 Click on the above blank page and print.
Response Activity #2     
Print and Color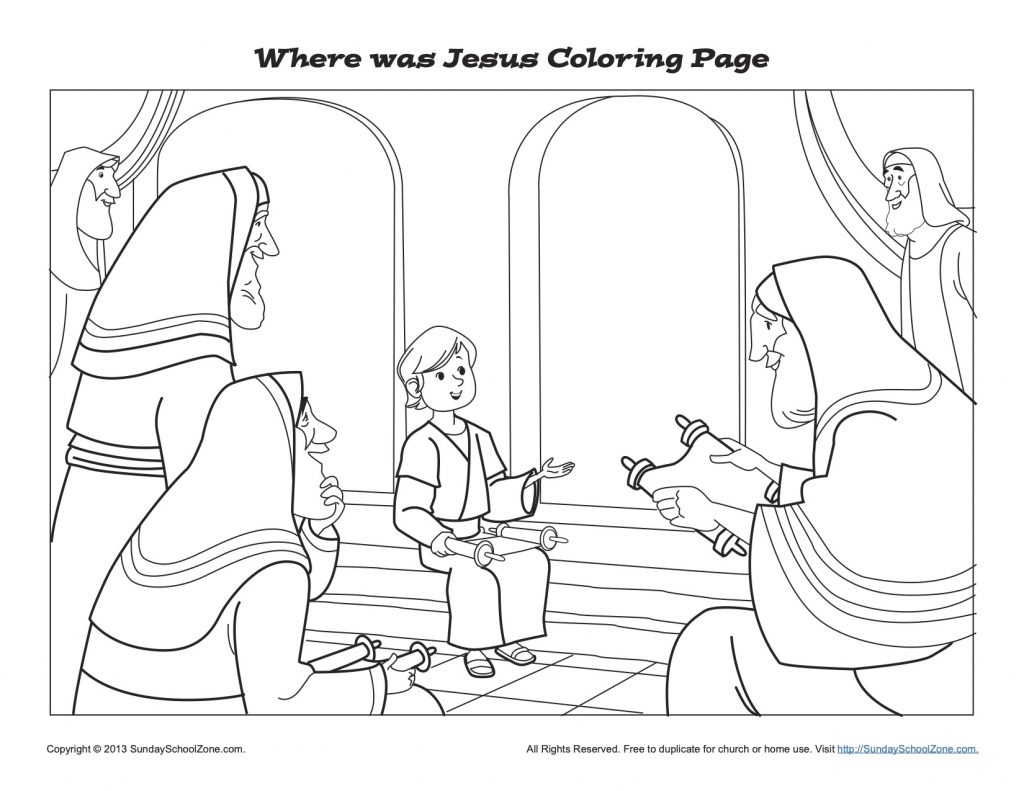 Activity 4: CLOSING BLESSING 
May you always remember that we can follow Jesus as our example and know that He is with us.  All of us can show our love for God by doing what 1 Timothy 4:12 says: Be an example to others. That's something that pleases God! 
0
0
Gold Avenue Church
http://goldavenuechurch.org/wp-content/uploads/2020/07/GAC-Logo-V5-nbmod-300x300-1.png
Gold Avenue Church
2021-01-02 16:00:26
2021-01-02 16:00:26
Children's Worship 01.03.21